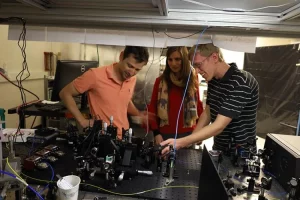 Research into quantum engineering may provide a number of significant advancements in sensor technology, but optical loss and signal noise have – until recently – held these applications back. In "Realistic model of entanglement-enhanced sensing in optical fibers" published in Optics Express earlier this year, the Optics and Photonics Research Group at CU Boulder and their partners predict and demonstrate meaningful advances in fiber-based, quantum-enhanced remote sensing and probing of photosensitive materials.
The post Researchers Advance Quantum Sensing with a New Model in Optical Fibers appeared first on HPCwire.
Article From: "Andrew Jolly" Read full article »
Hire with PACE
---
---
---
---
---
---
The PACE robotics team specializes in placement for robotics, autonomous systems and industrial automation. Contact us today and let PACE find the talent to take your organization to the next level.
Talented Engineers Wanted
---
---
---
---
---
---
PACE aligns elite companies with the best and brightest, and we are always finding new opportunities for technical talent in Boston, Massachusetts, and New England. Submit your resume and let PACE start working for you.