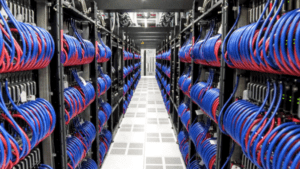 In April 2018, the U.S. Department of Energy announced plans to procure a trio of exascale supercomputers at a total cost of up to $1.8 billion dollars. Over the ensuing four years, many announcements were made, many deadlines were missed, and a pandemic threw the world into disarray. Now, at long last, HPE and Oak Ridge National Laboratory (ORNL) have announced that the first of those three systems is operational: the HPE-built, AMD-powered Frontier supercomputer, a behemoth system that delivers 1.102 Linpack exaflops of computing power.
The post The Final Frontier: US Has Its First Exascale Supercomputer appeared first on HPCwire.
Article From: "Oliver Peckham" Read full article »
Hire with PACE
---
---
---
---
---
---
The PACE robotics team specializes in placement for robotics, autonomous systems and industrial automation. Contact us today and let PACE find the talent to take your organization to the next level.
Talented Engineers Wanted
---
---
---
---
---
---
PACE aligns elite companies with the best and brightest, and we are always finding new opportunities for technical talent in Boston, Massachusetts, and New England. Submit your resume and let PACE start working for you.