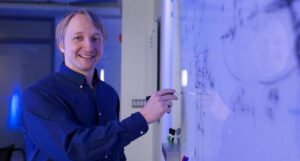 National Institute of Standards and Technology (NIST) public affairs specialist Chad Boutin interviewed Alexey Gorshkov, a NIST theorist at NIST/University of Maryland's Joint Center for Quantum Information and Computer Science (QuICS) and Joint Quantum Institute, who works at the intersection of physics and computer science research. His efforts are helping in the design of quantum computers, revealing what capabilities they might possess, and showing why we all should be excited about their creation.
The post What's So Great About Quantum Computing? A Q&A with NIST Theorist Alexey Gorshkov appeared first on HPCwire.
Article From: "NIST" Read full article »
Hire with PACE
---
---
---
---
---
---
The PACE robotics team specializes in placement for robotics, autonomous systems and industrial automation. Contact us today and let PACE find the talent to take your organization to the next level.
Talented Engineers Wanted
---
---
---
---
---
---
PACE aligns elite companies with the best and brightest, and we are always finding new opportunities for technical talent in Boston, Massachusetts, and New England. Submit your resume and let PACE start working for you.